Education & Public Outreach
---
Volcano in the Sky: The Story of Eta Carinae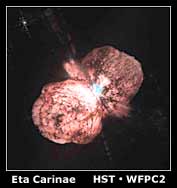 The Minnesota Planetarium Society produced a short film about Eta Carinae with a grant from the Treasury Project. We heard that it was very much in demand at the 2004 Planetarium Director's conference so chances are you might be able to see it at a planetarium near you.
The film is a 12 minute introduction to Eta Carinae and some of the fascinating scientific questions it poses to us. It features interviews with Kris Davidson, Roberta Humphreys, and Bish Ishibashi. The film might be a good companion for lessons on stars or supernovae at a middle-school level.
Copies of this film on DVD are available for purchase at the Minnesota Planetarium web site:
---
More to Come
Watch this space for more public outreach and education-oriented items.
---
©2003,2004 The University of Minnesota. All rights reserved.